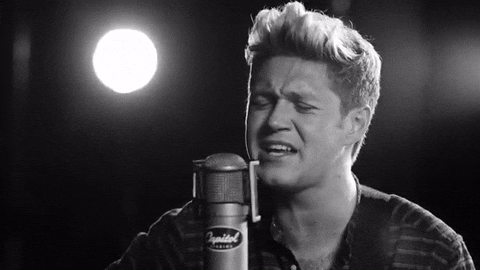 ★★★★★
Niall Horan, in his debut album Flicker, showcases an immense amount of talent that I believe hasn't even been fully reached yet. Coming from the biggest boyband in the world, he never showed this singer-songwriter, sensitive side of himself and this album is but a tiny reflection inside the mind of Niall. Overall, his voice alone is one that can carry, and he shows that he doesn't need to be in a band to be successful, even though One Direction should come back. Niall's album is a perfect blend of love and loss, and it's both vulnerable and secure; and he has really stepped away from that boyband produced sound we have come to know. 
      The starting track, entitled "On The Loose" showcases a smoother, darker side to Niall than his previously released songs. "On The Loose" ditches the softer acoustic sound of "This Town" and the sad, piano filled sound of "Too Much To Ask" and brings in a swanky, upbeat song about a girl who thrives on breaking hearts. It is the perfect opening track, his slightly raspy voice blending very well with the underlying music. Another great track that stuck out in his album was a song released prior to the album debut, and this track is titled "Too Much To Ask".
      To me, "Too Much To Ask" is the quintessential break up song. It strongly represents the hurt and the yearning after losing a loved one. It asks about regret, raises awareness to the hurting of hope left inside your chest as you dance alone for the first time without a person you had a connection with. The underlying music, including the piano, the soft guitar, the simple drum, and everything else; it all adds a deeper level to the song. The chord progressions give this sad tone to it, and overall I think this song is really powerful in bringing out emotions you might not want to feel, but are necessary. This song is probably my favorite on this album because of how raw and real the lyrics are.
       Another song worth mentioning in "Flicker" is the song called "On My Own". This song from the start sounds very Irish-rock, and I believe this is where Niall is showing his confidence. The song is all about how he doesn't need someone else to complete, and that he prefers to "drink till it's empty, stay out till it's dead" and so on. I believe this song is powerful because it carries an underlying acoustic sound, but has more built on it than just a guitar or piano. This song overall reminds me of someone at a pub, half-drunk, saying they don't need anyone to be happy as everyone around them is in love. This song is perfect to dance to when you're feeling independent, free, and happy. This song is a switch up from most of hislovelorn ballads, and I think it was a perfect addition to the album.
     Overall, I believe this album will be the most successful work to come from all of the former members of One Direction. Niall did an exquisite job of producing a beautiful album full of variations of sounds from acoustic pop to regular, full band pop. His vocal ability is so strong and the intensity at which he sings is incredible. You can hear the passion and the truth in his voice as he sings and this album is a work built from the heart; one that embodies his Irish roots, which is something Niall has always been strong on never forgetting.
Please reload